Did you know that you can make real money farming worms? It's hard to believe but it is true.
Many people are able to make a good living feeding their organic waste to their worms then turning around and selling their worms' cast-offs (poop) to organic farmers that are in search of high-quality organic fertilizer.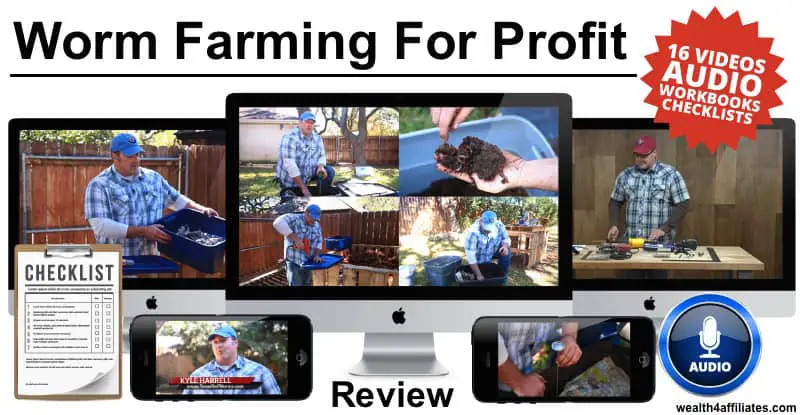 Raising worms will not make you a millionaire but it will give you extra money to help pay your bills or save up for a well-deserved vacation.
This home-based business requires a few hours of the initial set up a time to bed your worms The farm will only take you a few hours out of your week to work after set up.
With a worm farm, you can generate $500 – 1000 in additional income. This can help you keep up with your bills or save for your next vacation.
For the most part, this is a passive income stream with a relatively low start-up cost and little time investment. Getting started is simple when you know what you are doing.
Avoid the mistakes newbie worm farmers make by investing in a system that shows you step by step how to start your own worm farm.
Get Educated on Worm Farming
Beginners will often make mistakes in setting up their farms which can kill off their investments (worms). Knowing how to set up a worm habitat the right way will give you the chance to be productive earlier.
Advice from experts will help you set up your business faster and help you avoid the pitfalls of the worm business.
Introduction to Worm Farming for Profit
Worm Farming for Profit in a comprehensive worm farming step by step guide that walks you through everything you need to know to become a lucrative worm farmer.
This course provides you with video, audio, and workbook instruction by a professional worm farmer.
Instructions are given in simple and straightforward language. It is easy for anyone to follow no matter what educational background you have.
Information Provided in Worm Farming for Profit
This course provides stellar information to begin your worm farm. Here is a list of the key subject matters taught in the course:
How to Bed Your Worms
The course explains how to use the lasagna method of worm bedding instead of just relying on regular soil. With the lasagna method, your worms will be able to double in size and produce more cast-offs.
What to Feed Your Worms
Learn what food not to feed your worms to avoid killing them. Learn what to feed your worms so that they produce a large number of casting.
There are approximately 15 foods that you can feed your worms. Can you name any of them?
How to Harvest Worms
In Worm Farming for Profit, you will acquire helpful tricks that will allow you to harvest up to 100,000 worms in less than a minute. This trick will make sure you do not miss harvesting any of your worms.
How to Breed Your Worms Effectively
This system will educate on using light to encourage worms to breed. It will discuss the best light setting that will cause your worms to reproduce fast.
It will allow you to discover the 9-volt battery trick that will cause docile male worms to be eager to mate.
How to Sell Your Tea, Castings and Surplus Worms
First worm tea is made from the casting of worms and mixed with water along with a few other ingredients. This makes a good fertilizer.
The course teaches beginners to utilize free ads to sell their castings, tea and surplus worms (once you have extras to sell)
How to Consign Fishing Worms
If you are interested in selling fishing worms you can make a tidy profit. Not many people work in this area anymore and these sales provide the best profit margin.
In this course, you will discover how to sell thousands of blood worms a week to potential buyers without having to come in contact with any fisherman.
The process involves a third party who will conduct the sale on your behalf.
How to Rent Out Your Worms
Yes, you can actually rent out your worms to people who compost. This is actually an old trick employed by hippies.
Renting out your worms allows your worms to grow bigger while you make rental income. This provides you with a win/win situation.
How to Streamline Your Business
Learn how to run a functioning and profitable worm farm with an investment of a few hours a week.
How to Triple Your Production
Worm Farming for Profit educates you on the high-rise system. This system allows you to triple your production rate.
Guaranteed Success
There are not many guarantees in life but there are three guarantees provided to anyone who invests their time and money in this course.
The retired fireman that runs this course promises to refund your money if you discover that this course is not for you. This helps take the risk out of purchasing this course with its $147 price tag.
If you find your worms do not multiply or grow after following all the instructions then an expert will work with you until the problem becomes rectified.
Worried about not being able to sell your worms after you harvest them? Worry not as the designer of the course promises to buy the worms back for double the cost of the course.
Who Will Benefit from Worm Farming for Profit
This system provides anyone to start a profitable home-based business. Really anyone has the opportunity to make money farming worms.
Kids, adults, and the elderly have all made successful worm farms. Some people have even been able to put themselves through college with the profits that their worm business for profit generated.
Reasons to Start A Worm Farm
Listed below are several reasons to start your own worm farm.
Make extra income
To be self-sufficient
To provide organic fertilizer to farmers
To do something environmentally friendly
Because there is not much of time investment needed to run a worm farm for profit
To get rid of your organic waste
Benefits
Listed below are several benefits that you will get from using Worm Farming for Profit.
Uses environmentally friendly products to raise worms.
Furnishes clear detailed information to begin your startup
Provides consultation if you are unable to get your worms to reproduce
Uses video-based instructions
60-day money-back guarantee
An expert worm farmer with 8 years of experience teaches inspiring worm farmers how to create their own worm farm from start to finish
Final Thoughts
If you want to start off your worm farm venture on the right foot purchasing this system would make sense. Learn from the experiences of an experienced worm farmer and learn to avoid costly mistakes that can set back your productivity.
Click here to learn more about Worm Farming For Profit.